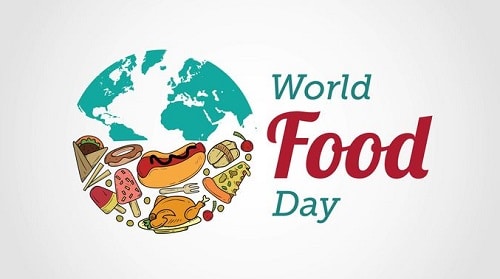 World Food Day is observed on the 16th of October each year. This day is celebrated to honor the date when the Food and Agriculture Organization of the United Nations was founded in 1935. It is also recognized to raise awareness about hunger, as well as encourage the public to take action is to help eliminate world hunger.
The World Food Day is celebrated by organizing food drives and distributing free meals for the homeless and less fortunate. If you have the heart to participate in this holiday, here are some of the ways you can take a stand against hunger and make a difference.
Take a photo of your meal and share it on  social media
If you think taking photos of your sumptuous meals and uploading them on the social media is meaningless, then you have been thinking wrong. By sharing photos of your meals, you are also literally sharing your food. All you have to do is to download FoodShareFilter or Feedie. Both applications were designed to help fight global hunger. Every time photos of food are shared using the app, the restaurant donates a meal to an organization called the Lunchbox Fund that provides meals for orphaned children in South Africa.
Volunteer in your local community garden
Food scarcity and insecurity affect people living in poverty and those who have limited access to healthy and fresh food. Help make a difference by volunteering in your local urban garden. Address hunger by getting outside, by connecting with people, and by distributing fresh produce to people who need it most.
Participate in local community events
There are plenty of local events you can participate in if you want to help fight hunger in your community. Search World Food Day USA on Google to find some ways you can help. There are plenty of volunteer opportunities: packing meals for the homeless, walking for hunger, or helping out in a soup kitchen to name a few. No matter how big or small, your efforts will make a difference. However, you help out will be valuable for the nourishment of those who are in need. So serve your community by giving your time and efforts.
Help improve the quality of school lunches
In different parts of the United States and throughout the world, a school lunch or breakfast may be the only full meal a student eats in a day. The sad part is that these meals do not always contain important nutrients a child needs for growth and development. By improving the quality of food at schools, children can enjoy better health and improve their academic performance.
Treat yourself
Did you know that by treating yourself with your favorite food at your favorite restaurant, you are also making a difference in the world's problem with hunger and food scarcity? So go ahead and invite a friend for a meaningful and sumptuous meal. As soon as the check arrives, donate the cost of your meal by joining the #HungerFree movement. This movement is organized to help fight hunger in South Sudan, Kenya, and many other parts of the globe.
Attend an event
If you are looking for other ways to participate in  World Food Day, you can visit foodday.org and enter your zip code to find an event near you. It doesn't matter which event you choose, whether you dine or donate, the important thing is that you are helping spread awareness. You are also encouraging people to join the fight against hunger.
Food scarcity and hunger may seem to be overwhelming global problems. But if we all decide to take action, even in our little ways, and become advocates for health and food, we can all make a difference to make this world a better place.