Summer offers children a well-received break from structured learning. A Summer Camp provides children with the opportunity to build their character, confidence, and other interpersonal skills while indulging in fun and entertaining activities.
Camp doesn't just apply to school-aged children! The benefits of summer camp for preschoolers include school preparedness and independence. Children adapt quickly to their camp communities and flourish under the positive pressure of group activities, free play, and community events.
In a safe environment, free from parental interference, children make their own decisions and fulfill their duties as a member of a working group. While traditional schools reward growth in reading, writing, and arithmetic, soft skills, such as social etiquette, communication, and cooperation often fall by the wayside.
At camp, daily challenges and group activities can help stimulate personal growth by pushing children to new boundaries. From first-day introductions to end-of-summer farewells, children get countless real-life opportunities to practice their interpersonal skills.
Summer camp is a safe, supervised environment filled with freedom and opportunity. For parents who have their own camp memories, it is an investment that goes without question. For children looking to flex their wings, it is the opportunity of a lifetime that only comes around once a year!
Benefits of Summer Camp for Youth
Friendship: One of the key components of summer camp is friendship. As part of a camp community, children are encouraged to work together and rely on the support of others.
Confidence: Children take part in many character building activities that promote positive self-esteem and self-worth.
Leadership: Children are encouraged to participate in group activities that reward valuable leadership skills.
Independence: While camp counselors provide ample supervision and guidance, children are encouraged to make positive decisions on their own.
Fresh Air: At home, the lure of video games and air conditioning can sometimes be overwhelming, but at summer camp there are plenty of outdoor activities to keep children active outside.
Discovery: Children walk away from camp with a variety of new skills. Some skills may even become a lifelong interest.
Freedom: While there are many preplanned activities at camp, some of the children's time is filled with free play. Children cherish the opportunity to build upon their newfound friendships.
Nature: Many camps provide a gateway to the natural world. Hiking, canoeing, and water play are just a few of the enjoyable outdoor activities your child may take part in at camp.
Talent: At camp, individuality is celebrated. Oftentimes, a variety of activities will offer children multiple opportunities to discover and nurture their individual talents.
Belonging: Children often yearn to be accepted and cherished by their peers. At camp, they will discover that many tasks require a team effort.
Tradition: From camp songs to secret codes, summer camps often develop their own culture and traditions to match. For this reason, children often desire to return to the same camp year after year.
Education: Educators stress the importance of bridging the gap between school years. Summer camp, while incredibly fun, offers activities that encourage creative thinking, problem solving, and even encourage skills such as reading and math. Early childhood educators stress importance of summer camp in school preparedness.
Benefits of Summer Camp Statistics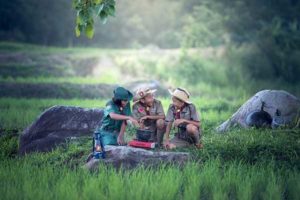 According to Psychology Today, a survey given to 300 summer camp directors revealed that summer camp makes children more resilient to life's stress.
There are many social and emotional benefits that can be attributed to a positive summer camp experience. Without parental interference, children discover their own voice and how to independently navigate social situations. Moreover, campers often assume greater responsibilities than they would at home.
A recent study by the University of New Hampshire confirmed that outdoor education helped children develop positive qualities and capabilities. With today's children spending more time than ever on screens, embarking on an outdoor adventure can be a pivotal opportunity. According to the Campaign for a Commercial-Free Childhood, children between the ages of two and five spend an average of 2.2 hours on screens every day!
While it is difficult to measure a child's emotional growth, the nation's continued demand for summer camp speaks for itself. With over 14 billion people enrolled in summer camp programs each year, there is something wonderful to be said about this seasonal tradition.
Contact us at Young Scholars Academy for more information on our exploratory summer camp program. Young Scholars Academy is an award winning Colorado Springs preschool which also offers a specialized camp experience for 4-year-olds. Give them a call today to hear more about the benefits of summer camp for preschoolers!