For kids, expressing frustration often translates to misbehavior. What they can't express verbally, they make up for in actions and erratic behavior.
Children seldom do well with sudden changes. Anything that shakes up their routine is a threat. And that includes younger siblings when they suddenly come along.
An older child who's had all the attention to himself all his life may realize he no longer gets the same privileges as when he was still an only child. These sudden changes and lack of attention can unwittingly brew resentment toward their younger siblings.
If not addressed properly, that can end up in sibling rivalry. 
Although this may be a common occurrence in families with more than one child, sibling rivalry can put a lot of stress on the relationship of the members within the household.
Taking steps to prevent (if not completely eliminate) sibling rivalry can help keep harmony, not only among the kids but also to everyone in the family. Here are a few simple steps to get you started.
Drop the labels
Children placed in categories such as who's the smart one, who is athletic, who is friendly, and who is shy, will develop tendencies to box themselves into that single category and not strive to do anything or be anything else.
Apart from that, competitions arise when labels are involved. So drop the labels whenever possible to help eliminate competition and sibling rivalry among your kids.
We understand how handy it is to drop the name of a sibling who has accomplished something to urge the other kids to the same. But comparisons are what's keeping the family dynamics toxic so leave the labels out of your conversations when speaking about your children and let them thrive, each in their own ways, without judgement.
Teach conflict resolution
While timeouts may help diffuse a situation and allow children to reflect on their actions while facing a wall alone, role-plays are a more effective method for teaching your children ways to resolve conflict on their own.
This may include:
situations wherein they ask permission or respond appropriately when taking turns,

using "I feel" statements to express their emotions verbally instead of lashing out when frustrated,

finding ways to cope with their temper such as counting to ten, taking long deep breaths, or walking away to get themselves out of the situation that triggers it.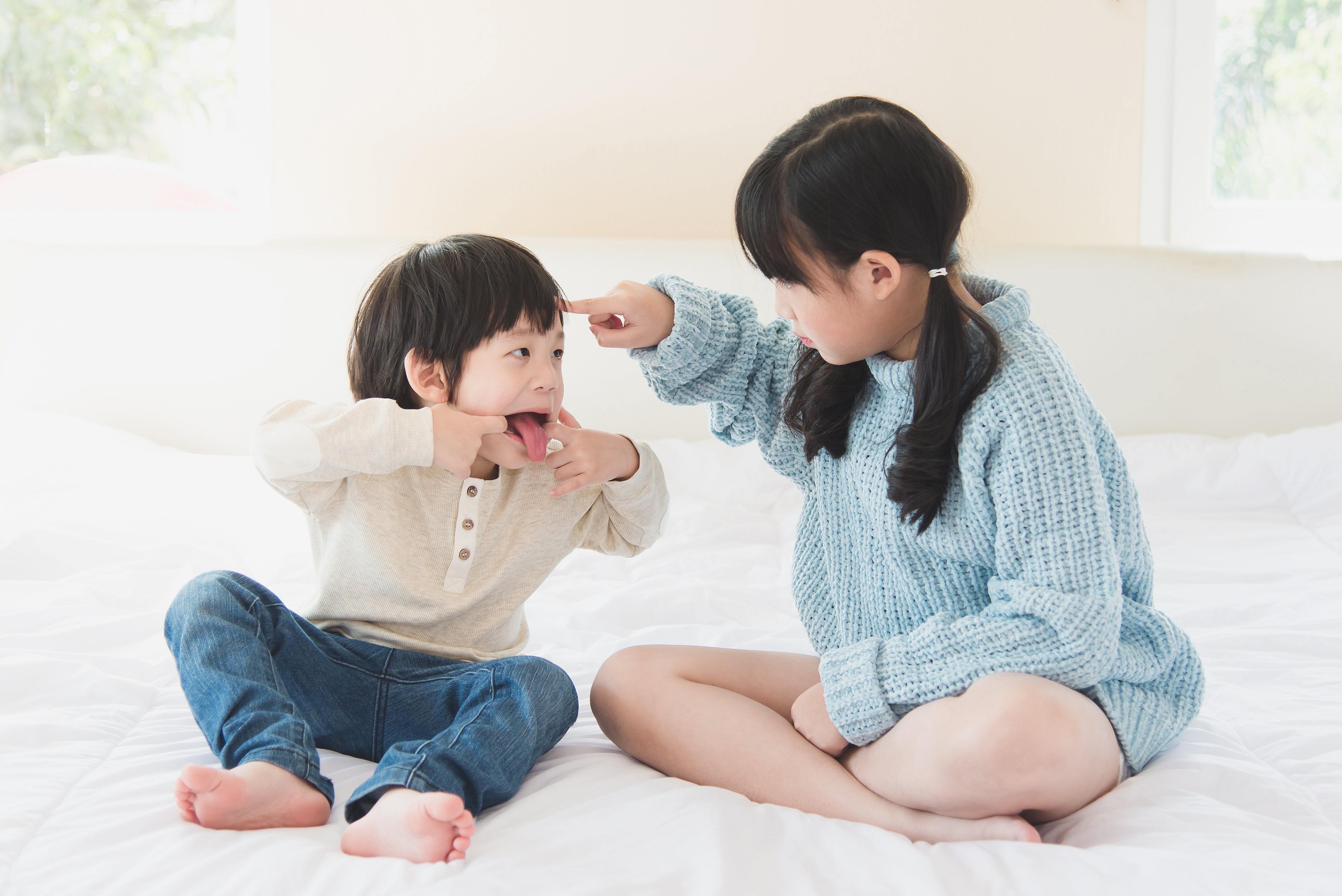 Routinely check up on your other kids
Children are always inclined to seek their parents' attention. They'll aim to get it through any means they can, even if they have to cause trouble for it.
Babies are sure to be in more need of your careful attention but when you have other kids around the house, be sure to check up on them from time-to-time to make sure that they don't feel left out.
Try to involve them in caring for their little sibling by asking them to do simple things they feel their sibling would be grateful for. 
Also try to schedule some alone time with your older kids on a regular basis. Ask them what they want to do and let them call the shots for a limited time. This is where you will also commit to giving your undivided attention to them for that certain period. 
What's great is that this keeps you in the loop of what they're up to, helps maintain your parent-child relationship, and fills in for the moments you couldn't be there for them when you are busy caring for your little one.
Let them work it out on their own
In the heat of the moment, there's one thing a parent should keep in mind: try not to get involved in the squabble!
Children have a lot of petty fights. It's pointless to jump in and try to fix these at all times. Giving attention to these little fights only tolerates the bad behavior, leaving you with endless explanations for what started which and who did what.
This isn't good behavior and mustn't be tolerated so don't bother wasting your energy fixing these. So long as no one is in danger of getting physically injured, the best way to handle them is to move out of the room and let them work out the conflict on their own.
Looking for more parenting tips? Visit youngscholarsacademycolorado.com for more! And if you're preparing for your child's early education in the Colorado Springs area, Young Scholars Academy's preschool programs create an engaging learning environment with fun activities and unique scenarios that create lasting memories for young kids. Our family takes care of your family with the best child care! Please feel free to call 719-419-8418 to schedule your tour of the classrooms or visit https://www.youngscholarsacademycolorado.com for more details.