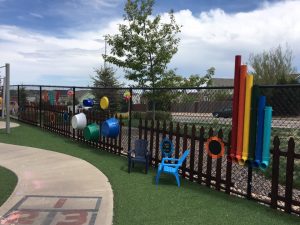 We all want to believe it's summer but good ole' Colorado is telling us otherwise! That hasn't stopped us though; we have gone all in on #projectplayground!
What is #projectplayground? Young Scholars Academy decided to fully revamp and focus all our attention outside where so much room for imagination and growth! We added built-from scratch kitchens with a barbeque station, a xylophone and tin drums for music, plus an obstacle course to help with fine motor skills!
Our Summer Camps and S.T.E.A.M. program (STEM curriculum specifically for 4 years) has started and the kids are busier than ever! We have field trips planned for the rest of summer specific to the curriculum themes; for instance next week is "Animal Safari" and we will be head to Anderson Farms, the Cheyenne Mountain Zoo and even make new friends at Build-A-Bear! Very excited for these kids to have this opportunity to explore and make new memories–
With the renovation of these playgrounds, we have already seen kids making and creating "grilled macaroni and cheese" and taking orders for McDonalds, ha! So awesome to see that this idea has come to life!
Now if you're interested in getting in on any of these programs we only have a handful of spaces left, would love to give one (or many) to you!
Contact us today so we can discuss the wonderful benefits of our programs, and how you can secure your child's space in a program voted Best of the Springs 3 years in a row!