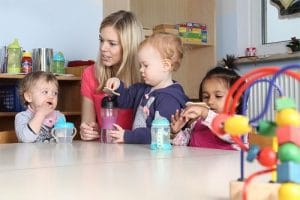 It's time for your little one to attend to preschool and you have no idea how to prepare for it. You may have heard from other parents that the transition for the first few weeks will be hard and stressful for both you and your child. Separation anxiety in children is a common thing and it's nothing to be afraid of. There are ways to help children adjust to preschool and to make the transition easier for both of you.
Starting school is a big milestone for both kids and parents. Preschool offers a lot of benefits but it can be a bit difficult for children to leave the familiar safety of home. Some parents may also worry about whether their children are ready for school or not. Here are 8 tips to help you and your child adjust to preschool.
Have a Positive Attitude
Going to school for the first time is a big change in a family's life. Remember to always stay positive. Children can pick up on your feelings, whether it's positive or negative. So if you are having a hard time, your child will feel that way, too. Try to have the  mindset to be perky and excited. Pay attention to the way you talk about them going to school. If you sound nervous, your child will tune in to your feelings and not the words you've spoken. Portray a sense of calmness and confidence. Preschool is a wonderful thing to happen to kids. Let them grow, learn, and develop new memories with teachers and schoolmates.
Talk to your child about school
Introduce the idea of school to your child long before they're ready for school. Introduce them other children who go to school. Show them the school bus and tell them stories about how much fun it is to ride in one. Tell them what they can do in school and how they can make lots of new friends and playmates there. Describe the playground and the new toys they can play with and so on. Talk about school as a positive place for them to go to. Don't create a negative impression about school, otherwise, your child may not look at school in a positive manner.
A consistent routine is key
Having a consistent routine can create a sense of normalcy for every child. Make a consistent morning ritual and make sure that they have enough sleep the night before. Have breakfast together, pack lunch, help them prep for school, and leave home happily. At school, you can say hello to their teacher together before saying goodbye to each other.
Slowly and gradually phase out separation anxiety
Separation anxiety in children is common especially between the ages 1 to 3. Children tend to cling to their parents and cry out whenever they don't see them near. When your child is already going to preschool, try to phase out separation. Most preschools allow the parents to stay with their children for the first few hours. Encourage your child to enjoy the new environment they are in. Children can become comfortable in 2-3 days time. Every child reacts differently, so depending on how they respond, you can gradually decrease the time you spend with your child. Leave them for half an hour, then an hour and so on. Make sure to pick your child up on time. This instills confidence in them that you are there whenever they may need you. If you can already see that your child is enjoying school without your company, try not to linger too long and go on to your other tasks.
Help ease your child's fears
At a young age, children are still not capable of expressing their feelings in words. Try to be gentle and understanding. If going to school scares your child and they refuse to go, talk to them and make them understand how important school is. Talk instead of trying to force them.
Recall the second tip. Spend time having conversations with your child about school. Gradually introduce your child to the possible activities they will get to do in school. You can also let them play early with crayons and paper, this will make them comfortable when they see these things at school. To ease your child's fear of unknown territory, visit the preschool classroom a few times before school starts. Meet with the teachers and  ask about common school activities and routines to prepare your child for what is ahead.
Let your child explore the new classroom and let them interact with other children. This will help them become familiar with this new environment. The more composed and calm you are with sending your child to preschool, the more confident your child will be going to school.
Saying goodbye helps
When leaving your child at school, do not sneak out. Don't leave without saying a proper goodbye. You don't want your child to feel abandoned when you sneak out, right? Avoiding a tearful farewell by not saying goodbye may be an idea you'd entertain but it will just impose a negative feeling to your child. Always include a loving goodbye and make it quick. If you are going to make a promise to return, be sure to be on time.
Stay connected
Always make time to bond with your child. Every day after school, have a special time to ask them about their day. Listen to what they have to say and interact.
Involve the teacher
Children need to feel connected to adults that they think will keep them safe. When they are in school, the immediate adult they have in their environment is the teacher. Help your child bond with the teacher. Experienced teachers can help children ease the transition from home to school. They can assign a special job to the child so that they can feel more connected, like they have a role to play each day. Teachers have a lot of effective strategies in their arsenal for helping young kids adjust in school. Your child will learn to trust their teacher when you show that you trust them, too.
When it's time for your child to go to school, make sure to prepare early. Let them get a good night's sleep so that they will have the energy to do fun activities in school. Preparing early  will help your child adjust to preschool quickly. Follow the tips mentioned above for an easy transition of this big change. If you are looking for a good preschool for your child, check out this daycare in Colorado Springs.